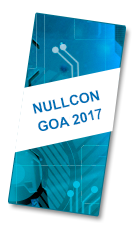 A few months ago, I was asked to speak at Nullcon 2017, which concluded a few weeks ago. It was very well setup conference, and it attracts a lot of the security community in the Indian subcontinent. A pleasure to speak at, and I'd be happy to do it again in Goa 2018.
I presented how to sign up to Microsoft Azure, in order to find security vulnerabilities in it for our Azure Bug Bounty program. We presented together with Facebook, Google, BugCrowd and HackerOne to entice the community to participate in Bug Bounties.
Anyway, a quick thank you to the organizers, and hope to see you all in 2018 in beautiful, sunny Goa!