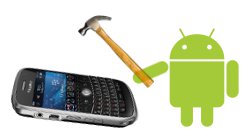 After three years of series of using BlackBerries (work and personal), I went to the dark side and got myself an Android phone.
It was a bit getting used to (and necesarry nagging from my end), but here are some of the reasons why I love it, and some reasons why I miss my Blackberry:

Hardware: Maybe unfair, but initially I had the Curve 8320. That was a solid, throw-me-around-and-I-won't-break phone. Since then, my later Curve (8900) seemed to have inferior hardware, and the trackball always got stuck. I tried several cleaning techniques, and it always stayed bad. To an extend that I could only scroll in one direction, then it was time to switch.
Browser: RIM, we're not the 90's anymore.
Developing: writing apps for the Android OS is more fun, and there are more examples available.
Privacy: although BlackBerry is said to be "fort knox security", recently there were some concerns about RIM allowing local providers to snoop on BBM and Email messages. Now, it seems they gave in. I have nothing to hide from the government, but this is misleading. Now I am well happy in my SSH and SSL environment. 🙂
Apps: Not as strong as the Apple Appstore, Android has a lot more apps than blackberry. I am not a multimedia person and couldn't care less in having the lastest 3D shooters on my phone. There's just a few apps that make life easier on the Android, compared to the 'Berry.
On another side, things I do miss about my blackberry:
The Keyboard: hands.down.the.best.ever. I never really liked touchscreen keyboards
BBM: I do miss chatting with my friends over BBM
Unlimited Data: although for Etisalat and Du that means "fair usage of 2 GB"
Email experience: perhaps a combination of both the keyboard and the app, but emails are easy with BB, although being an avid Gmail user, I like the native Google Contact/Email, … iintegration.
As said, i don't care much about 3D games or camera quality, so that's all good. I mainly use my phone for making and receiving phone calls, SMS's, Emails and occasional web surfing.
Thanks,
Michael