At work, we have a lot of HP Blade servers, and manage these through HP Onboard Administrator. By default, the server names are adapted from the Windows hostname, due to HP Insight Management agent tools. When running Linux, there doesn't seem to be a option, or at least I couldn't find one.
While questioned a few times on HP forums (such as this thread), questions rose to "installing windows on the server, then reinstall Linux", it is possible in the web interface to be set. It's not obviously placed, and hence might require some searching.
First, open the blade's ILO web interface, and select the concerned blade and choose Web Administration in its ILO menu.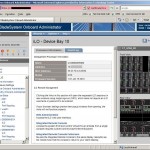 When logged in in the blade itself (usually done through SSO of the enclosure), choose "Adminstration".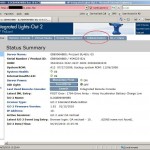 Finally, choose options, and then Settings » Access in the left menu pane. There you'll see Server name, and you can fill what you want.
True, it has nothing to do with Linux, but it gives us easier to manage hostname links in Onboard Administrator.